Since 1964, Sifas has accompanied the remarkable transformation of outdoor furniture, lead an informed innovation policy, and remains constantly on the lookout for technical advances that have undeniably shaped its history.
Over the decades, our firm has evolved lines of furniture to the rhythm of avant-garde materials, and high-performance treatments of materials, toward ever greater comfort, simplicity, and functionality.
Always up-to-date and at the same time timeless, Sifas collections have always accompanied and often initiated fashions, shaking up codes, and imposing a useful aesthetic style, specific to the brand.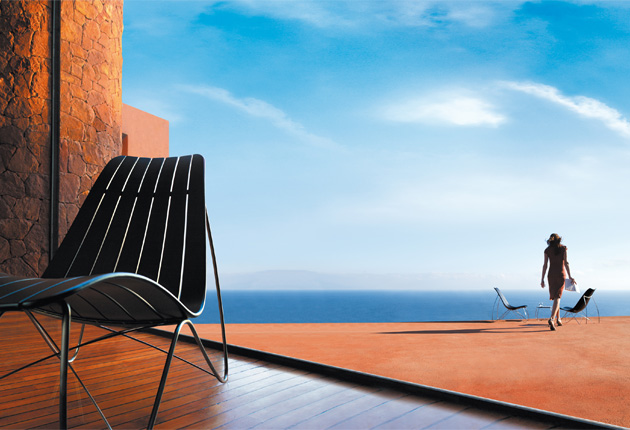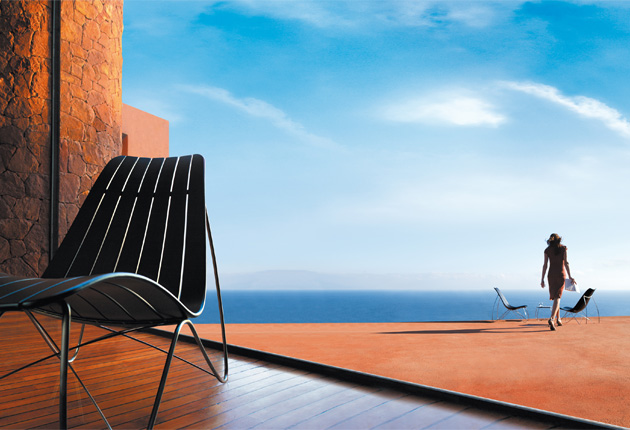 In its first shop on Antibes's Street, Sifas markets Hugonet furniture, especially the famous sofa Rocking ® multi-position armchair made of wooden slats, more than 500, 000 of which have been sold to date.
The company became the preferred supplier of celebrities who furnished the terraces and gardens of their large properties in Cannes or Saint-Jean Cap-Ferrat with elegant lines.
After the wood, Hugonet begin to use wrought iron, a durable material, to manufacture armchairs, deckchairs, and rocking chairs but also aviaries and planters … Sifa's, along with other French brands such as Triconfort and Claritex, imposed this art of outdoor living.
Sifas expands its presence on the French Riviera. In 1971, a showroom opened in the heart of the emblematic Marina Baie des Anges, between Nice and Antibes. From 1975, the Mougins warehouse was gradually transformed into a shop. Its location at the exit of the Autoroute du Soleil gave the brand unprecedented visibility and reputation. The Sifas's image became more prominent until moved to Monaco in 1975.
While rattan furniture began to take over the market, another material was to revolutionize the world of garden furniture: aluminium. Outdoor furniture became lighter, more functional, and more resistant to bad weather.
The Sifas style is known far beyond the borders of the French Riviera. Owners of the Riviera's beautiful second homes, living in the United States, the Middle East, or Scandinavia, often order the same furniture for their main residence. Faced with this craze, Sifas looks for a new style and discovers the extraordinary know-how of the Cebu rattan weavers in the Philippines, from where the company imports sophisticated and elegant furniture. At the same time, it signed partnerships with major American brands such as Brown Jordan, a manufacturer of wrought iron furniture with sober and ultra-comfortable lines, and the German company Rausch, one of the pioneers of outdoor rattan. Sifas thus opened their showrooms, in the Cap 3000 shopping center (Saint-Laurent du Var) in 1984 and then in the Galeries Lafayette in Nice in 1984 and then in the Galeries Lafayette in Nice in 1988. A "contract" subsidiary for hotels and restaurants, a sector also undergoing rapid change, was also inaugurated.
Not satisfied with the products offered, Sifas decide to produce its own models. The brand surprised the outdoor market by producing a two-seater deckchair in wrought iron, naturally named Croisette. From the polyethylene rods presented by Dedon, with whom Sifas quickly became associated, the Transatlantik woven fiber collection designed by Jean-Louis Guinochet was born. By offering very complete collections, designed from quality materials, extremely comfortable yet elegant, Sifas definitely established its role as a publisher of top-of-the range furniture while remaining a leader in furniture distribution. New showrooms were opened in Saint-Tropez in 1994, then in Antibes in 1996, while a network of independent retailers was set up in France, Italy, Germany, the Netherlands, Switzerland, and Spain.
The success of Sifa's collections launched in the 1990s and early 2000s – Croisette, Transatlantik, Coronado, Kare Free – allows the company to propagate its export activities. A representative office was opened in Guangzhou, China (2003) followed by another in Miami, USA (2005), then a third in Barcelona, Spain (2008), and a showroom was opened in Paris. The company participates in the most important international decoration fairs from New York to Milan, via Paris.
In 2010, the representative office in Guangzhou was transformed into a subsidiary in order to facilitate access to Asian markets. On the creative side, Sifas continues to develop with the credo of innovation in materials and the in-out style that has made its reputation.
Oskar is a timeless and chic collection by Eric Carrère, in anodized aluminium and Synteak® (synthetic teak) tops, and Sakura, a fluid line by Mark Robson in Hydropass ® (woven 3D ® fabric) was created.
In 2011, Sifas embarked on a rigorous eco-design process which led to the publication of the Ec-Inocks collection, designed by Eric Carrère and certified by the VIA (Valorisation de l'Innovation dans l'Ameublement). Sifas is the first company in the PACA region to take this step.
Sifas has made sustainable development an integral part of its corporate culture. The packaging is made from 100% recycled paper pulp, and the furniture is transported on wooden palettes made from low-calorie pine planks …
From this eco-citizen has been born the Kocoon range designed in 2012 by Daniel Pouzet and which, for the first time in furniture, uses 3D ® resin, usually reserved for the manufacture of wind turbines. With its stackable shells, Kocoon also reduces transport costs.
To each generation, its heritage. Since 2020, Julien Armaroli, the third generation of the Armaroli family that founded Sifas's brand, has joined the company alongside his father Jérôme. Born in the world of design and love of innovation, like his predecessors, he is re-anchoring the brand in its time and is already imagining collaborations with designers of the moment and envisages digital as an essential part of Sifas's future.
Sifas remains a family story and a story of excellence, where each member in his own way works to make the brand something living and timeless.